Adam Lambert: Maybe AMAs Performance "Wasn't the Best First Impression"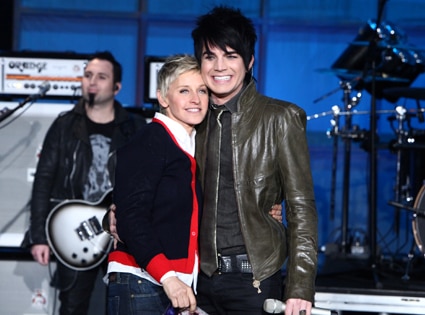 Michael Rozman/Warner Bros.
Adam Lambert
has been having second thoughts.
After initially writing off his
erotically charged appearance
at the 2009 American Music Awards as
envelope-pushing showmanship
, the singer is now wondering whether his performance was more for his entertainment than for yours.
"It was maybe a little too far," the 27-year-old artist admitted during a sit-down with
The Ellen DeGeneres Show
that airs Tuesday.
"I think in hindsight I look back on it and I go, 'OK, maybe that wasn't the best first impression to make again, the first second impression.' I mean, I had fun up there, I had a good time, my dancers had fun and the band had fun.
"I respect people and feel like people walked away from that feeling disrespected. I would never intend to disrespect anybody. So that was not my intention."
But count DeGeneres among those who believes there's a
double standard
on TV when it comes to male vs. female sexuality.
Source and continued HERE.